For the first time in American history a House Majority Leader was booted in the primary. I was actually shocked at this outcome as the polls were telling us all that it was gong to be a Cantor cakewalk. Canto spent over five million in his losing campaign while the victor, Dave Brat spent about $220,000 or so. It appears the little guy can still win an election in America.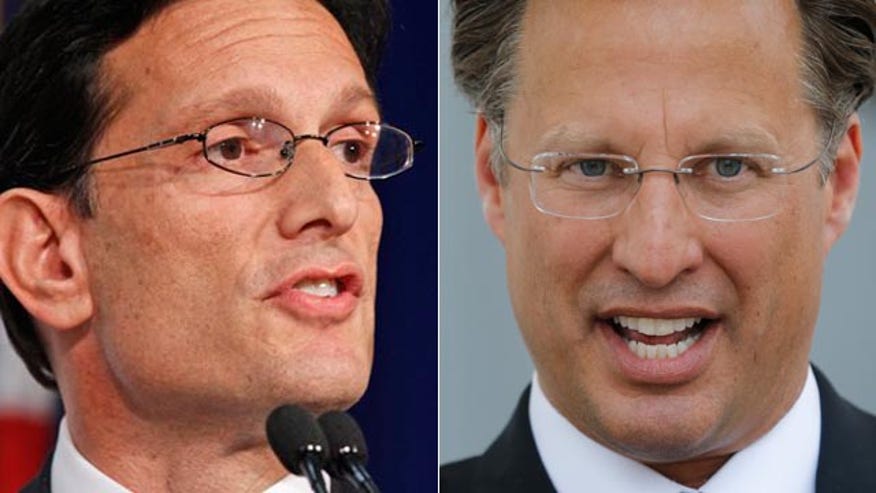 Eric Cantor-------Dave Brat
I like Eric Cantor and I got to meet him when he came to California to support Doug LaMalfa's run in 2012. I think my take on his defeat is different than the national talking heads conclusions though. In my view, if you don't take care of your district voters concerns first, you can be subject to defeat. Cantor was busy all over America helping to elect Republicans but in his district he took his position for granted. That only happens in districts like Nancy Pelosi's San Francisco district (gerrymandered to 80% democrat). She had some snarky comments as did some other democrats like Debbie Wasserman-Schultz of Florida. I give their analysis no weight since they have a polar opposite bias. I read the
local papers
to get a feel for "reasons", but of course, no one really knows.
The national talking heads were saying "immigration" was the reason but I don't buy it. I think the conservatives targeted Cantor because he was the Numero Dos in thre House and if you boot someone that high up it sends shivers up the spines of the rest. If it was a Texas House member, probably not the same impact. But of course we have to listen to those Washington DC "expert" talking heads since all the news shows never chat with "joe or Jane public". The Tea Party was dead according to the democrat big mouths only a week ago! Now the Tea Party is in control of the Republican Party according to the same democrat know-it-all's! Too funny.
With news on 24/7 and all these so called "experts" telling everyone what to think and believe, you would think Americans were just a bunch of robots shown how to pull the levers of ballot machines for the status quo (well it is for the democrat party). But to me this should be a big lesson to all politicians who forget about their constituents in their own districts. This is true from Congress down to dog catcher. Keep those "pot holes" repaired or risk being defeated.
I do feel bad for Cantor but I also feel good for the process. Too bad the democrat party is so unreachable for any change. They elect and re-elect scofflaws like Alcee Hastings and Charlie Rangel and others. It takes a death to even budge one inner city democrat. Those politicians are so effective since they get most of the transfer money and disburse it to their constituents. That keeps the "money drug" disbursed and the unrest at ease. But once again we see the Republicans/Conservatives as the people and party of change. We usually have spirited primaries and those status quo types can never rest easy. American politics will miss Eric Cantor but the process of his defeat is the true winner.