What has happened to our country? What caused America to go from the country that saved the planet from fascism and communism to one that is laughed at across the globe? How could this happen in such a short period? My father fought in World War Two in the Pacific. He served on aircraft carriers mostly. Americans like my Dad and of course the civilians at home sacrificed to ensure their way of life. Freedom was the cry throughout the lands. We must defeat the people's that want to deny the world those hard fought for freedoms epitomized in our Constitution.
Have we of the "baby boom" generation squandered those great sacrifices? Yes, I am sad to say it. It hurts me greatly to see America becoming a second tier country. Poll after poll of economic and personal freedoms, even
"journalistic" freedoms
(32nd in a "freedom of the press" country, amazing!) show a diminution in those freedoms we have taken for granted. How could this be?
I think the long range view and hopes and dreams of liberals to control the people of the planet started infiltrating America in the 1950's. I was just a kid and I did not pay attention then. Most people lived in a nuclear family and our parents worked hard to get ahead and raise their kids. Work was the fastest way to get ahead. Taxes were small and the middle class prospered. College had not yet become the "requirement" for a better life. It helped of course but there was still many Americans who did other kinds of work. All in all the country was growing, people were motivated and government interference was minimal. Davy Crockett and the Mickey Mouse Club were number one for the young minds of mush in the 50's.
I first started paying attention to politics in 1964 when I was the only supporter of Barry Goldwater in my school during the eighth grade at the Park Avenue school. I thought he made the most sense and it appeared to me the democrats were a bunch of crazy ass people. They were pelting blacks all over the south with water cannons and sicking dogs on them. Those people were simply asking for the rights as Americans and the Southern Democrats were having none of it. The Republicans were the party of Lincoln and were still trying to bring equal rights and justice. Of course this part of the country was a democrat stronghold for generations and those in charge were racists, bigots and whatever else the could conjour up. I thought it best to support people who believed in human freedom and dignity, the Republicans were my choice.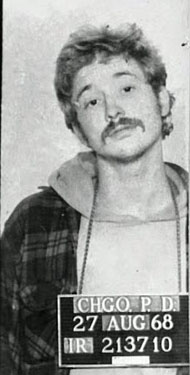 William Ayers, circa 1970
But the 60's started something else. Our parents who saved the planet from Hitler, Mussolini and Hirohito, worked so hard and gave their kids so much that the kids forgot about their parents sacrifices. Then the democrat President LBJ escalated the Vietnam conflict into a full fledged war and all of a sudden the "draft" became a real issue for many young Americans. This "anti-draft" movement spawned a bunch of groups that I considered un-American and many became violent.
William Ayers
and his "
Weather Underground
" radicals were one such group. Over time these radicals, mostly communist and anarchists, worked their way into the mainstream of America, while never giving up their beliefs. Ayers went into education and many others went into government and the bureaucracies of the country. Ayers is a close pal of our sitting President, Barack Hussein Obama. Ayers was one of the people invited to Obama's personal residence when he announced his run for the office. The the Federal Government started massive social programs and the results were higher and higher taxes and fees. These things forced the destruction of the middle class families and kept the poor poor.
Now it appears many of these anti-American radicals are in the highest offices of our country! Some have said where is Joe when we need him? I am not one of them though. The other major movement, (some say a bowel back in the day) was the hippies. These were just about anti everything American, cars, business and "the man". Of course they drove cars, shopped at businesses and after many years, became "the man". Now they are calling the shots at many levels of governance in America (they are loving us to death!). Sure there have been sellouts on the right as well. I call them RINO's, Republicans in name only, and they have helped damage America and its goals and truths as well.
But now all Americans of good will see the democrat/liberal overreach in the press. Well, some of the press. You see the "press" was another area of our lives the liberals took over. While most Americans were out making a living and raising their families, the left was taking over the education system and brainwashing the poor mushy heads of our youngsters. The professors, those anti-establishment types in the 60's are getting their pensions, their tenure and membership in the big club. The big club of people who are all on the same page of "let's make America into our utopia". So our kids got brainwashed that "global warming" is man made and "corporations" are monsters. They were convinced that "big government" would solve all problems and over my lifetime, that government became "daddy" to millions of single women and others. Total dependency brings a form of enslavement. So you want to eat? You want a place to live? Sign on to the democrat party and you will get whatever you need. Just vote democrat.
I also saw the intense, "whining" about everything capitalist. I saw the rise of NIMBY. I saw rooms of people shouting and protesting the placement of a CHURCH! A mine, a tree harvest, a Walmart or a Trader Joes! I saw government take over people's private property all over the country and the propaganda was so convincing that people would come carry signs of support for those travesty's. I saw a lot of selfish crap that got turned into law! Hell, one disgruntled mamby pamby ass, can, with one stamped letter, convince a willing EPA to declare thousands of acres of the California central valley a "endangered species" habitat for a "fairy shrimp" in "vernal pools"! In little pools of water that dry up within days! My goodness, where is the common sense?
So, maybe now that we have tipped the balance to the absolutely absurd here in America things couldn't get any worse? Nope. Everyday we are seeing the bad attitudes of people who band together to complain. They form groups with "friends of" some neighborhood, critter or river. We see others form groups to "defeat" a pipeline, a solar farm, a nuclear waste dump (in bleak Nevada) or some dam or use of a natural resource. And we give them tax breaks! The Sierra Club formed "Earth Justice" years ago as a legal entity to sue. Mostly Federal projects and state projects. If they win even one allegation I have heard they get all their legal fees paid by all of us taxpayers! What a scam. And there are thousands of these scammers.
So, we have in one generation removed defeating tyranny to a country almost unrecognizable to me and my mom still living. The people that built America are "greedy capitalists". The people that started the country in 1776 were all hypocritical "slave owning crackers". The people that built the infrastructures of America are now the exploiters of people and the environment. Industrialist are now the "polluters"! And the same people doing all this whining are the same ones who decry the "death penalty" and love abortion on demand! They are the ones driving a smog belching 76' Volvo to environmental meetings to protest a new store or a leather shop. We have lost our minds!
America needs to clean house of these people. Vote them out. Then put a hold on most regulatory actions for five years. Stop the publishing in the Federal Register that allows new regulations to be made into law. (I still can't figure that out under our Constitution). Make every regulation be voted on by the legislatures and Congress before they pass. No voice votes of one allowed. Roll calls for all votes! Remove "civil service" protections put in place 130 years ago (fire for cause). The reason is they have "unions" now in government and there should be no reason for them (actually unions too). No more tenure for professors who teach in the classroom less than 40 hours a week. We need more people of common sense in power so we need plumbers, builders, businessmen and women and others who have actually met a payroll. Oh, let people pay their own taxes and stop the "withholding" from their checks. There are many other ways to fix America and get us back on track and out of the hands of the elitist people in charge now. I like the Tom McClintocks of the Congress. He knows history and is a man of common sense. He and many elected in the last two cycles of Congress on the Republican side are what I would like to see more of. We have a couple of bad apples who should leave but for the most part we have common sense people.
If anyone wants to see how ridiculous things have become just look at what big government has done to our little Nevada County, California. Once a prosperous place, the rules from above (called mandates) have devastated our county and forced it into a pretty little bedroom community of service jobs and low wages. No more extraction of natural resource to any degree. And the spoiled brats of our community now turn out to protest every project brought forward that may create those real, high paying jobs. Look at the hysteria some locals have generated about the Dorsey Drive Interchange! After forty years of planning and raising funds to get it built, mainly for better access to the hospital and college, these people make up a conspiracy theory to try and demean those people who had the best intentions. Somehow this hysteria about progress has to be tempered with common sense. Laws need changing. People who lie about things or file frivolous lawsuits need to be punished with fines!
So mainly we have allowed a bunch of leftwingnuts to take the place over and we need to get it back. All you people working hard and not paying attention for the last 40 years or so need to start paying attention! See what happens when you stay home and don't vote? We get liberals/democrats and we get second class leadership. They have driven California into poverty and are doing it to the nation. You want to "fundamentally" change America? Change it back into the great country it was not so long ago. Get out of the chair and off the sofa and go vote common sense people into power. Whew!