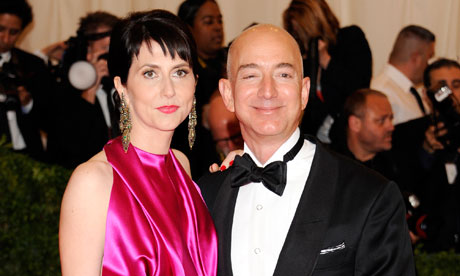 Mr. and Mrs. Bezos
What is this? A very successful capitalist now the owner of the main newspaper of DC? Oh crap say the libs. The paper I view and read as a liberal bastion of bullshit is owned by a rich dude from Seattle! I actually don't expect any changes in the paper since Bezos is not changing the present editor so you libs can breathe easier.
HERE
is a article on the sale and a bit about Bezos.
Bezos apparently has been interested in journalism for a long time. He is worth 22 billion bucks and is "exploring" things to keep his interest apparently. I suppose a person buys something to either simply "possess" it or has a desire to change it into a reflection of himself and his interests. Which will it be, hmmm.
I will guess that Bezos just wants to possess the paper and will stay away from the liberal rag's bent. Too much of a problem to turn away from the eight decades of BS pushed by this paper and its subsidiaries The Post sold their Newsweek ownership for one buck not that long ago. Newsweek is now a digital mag since their policies of timber cutting came back to bite them in the ass. Newsweek became a failure many years ago and was on life support most of those years. I used to subscribe to Newsweek as I did Time Magazine, Sport Illustrated, the Sacramento Bee and National Geographic.
When I had a radio talk show I used those magazines and newspapers for info. But then in the 90's things started changing and these mags and papers started getting to lefty politically for me. Political correctness and environmental extremist crap was their main style and I just could not deal with their lies and misinformation. I did try for a while. I thought, well, maybe I can justify the subscriptions by using them as a source for the BS I have to counter on the show and in other venues. Over a period of time I finally couldn't deal with their crap any longer and I cancelled them all.
I was very sad about the National Geographic. I had a subscription for many years but when they started putting their politics into every story and claiming all kinds of bogus science as facts (global warming for one, rain forest demise another), I had to quit them. All the mags and newspapers sent me requests to come back but I would send those letters back with a note that when they started to at least allow both sides in their articles that they were talking to the wrong guy. Now we see all the mags and newspapers in deep trouble economically. I was not the only person who got fed-up apparently. But they never changed, the people who owned and ran them (and this is many across America) are stuck in their make believe world of liberalism and their hated enemy, capitalism has taken them out. Don't have any money? Going out of business? Well hell try to talk to the one half of America you never listen to. Maybe you would survive!
I wrote many letters to the Washington Post and many others over the years. All I said was "Hey! The article you wrote on sea levels, timber harvesting, spotted owl habitat or taxes etc., was lacking the opposing view". They would rarely reply but usually it was something like, "you are a doofus and we are smarter than you so shut up". Not to good of a public relations style eh?
So, the newspapers, now the biggest or at least the once most important ones, are going belly up. Even the New York Times is having big trouble. Our local paper, the Union, is getting thinner and the fonts are getting smaller. I have to use a magnifying glass to read the damn thing. But since it is local I still have a subscription.
In my view I saw all this coming thirty years ago when I was a County Supervisor. The local paper was run by a lib editor and every story was biased against we conservatives. Our comments were always on the pack page in the last paragraph. The front page was reserved for the intelligent liberal's comments. Of course I learned from some smart people why that was always the case. The journalist graduated from "liberal arts" colleges and were all taught the same things. They were taught to put the conservatives comments at the end of the story and on the back page because they knew people tired of reading fast and rarely went to the back page extension of the story. Things changed long after I was out of office though when Jeff Ackerman took the reins of the Union Newspaper. At least he was a fair minded person and was not a mind-bot liberal journalist. I still miss his style.
I think we will see most of the newspapers change hands into those people who have the money. Entrepreneurs. But hopefully these people will realize that if they want those papers and magazines to survive they need to start appealing to all Americans. They need to be fair and to allow debate. They need to stop using the Borensteins for science or at least allow debate on his biased AP screeds. We get too see the success of networks like FOX News and its parent company FOX. They allow both side to have a say. Something the other networks don't. And we need to see the local stations like KCRA stop those little liberal comments after their biased stories on many issues. I would like to see them do continuous stories on economically successful people. Well at least as many as the sob stories of some poor white child on the streets.
So there we are. Bezos, smart capitalist buys a liberal newspaper. What will really happen. Especially after Bezos had that great big fight with California the last couple of years. Will he allow the journalists to keep trashing his way of life or will he influence them to be fair? Only time will tell, but I think the paper will die in a few years as liberal journalists never change.