What is all this anger against Trump? I have watched a dais of seventeen dwindle to three people and there he is. Trump is lasting. Why is that? And it seems there is no slander spewed by his critics that would be acceptable to a Hillary Clinton or a Jeb Bush. So why are his critics, left and right, so afraid of him?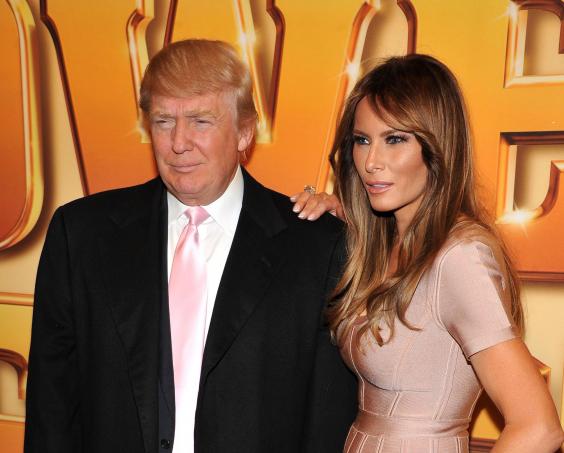 The answer to me is we have been fed a pablum of what a politician is supposed to be. Fed by the people in charge of our elected government. And the "consultants" of every stripe looking for a fast buck every four years. Trump does not fit the mold of these "establishment" people. They are all invested in the power of the status quo. As long as it is in their favor the status quo is happy place. Now someone coming from the private sector has them filled with fear and angst.
The opposition to Trump calls him dangerous, fascist, "Hitler" and "Mussolini". He is called a bigot, a homophobe, anti-Semite, racist and any other "keyword" of denigration the opposition can come up with. Even my fellow Republicans are in the mix. I am very saddened by that. I was always told our country was special.
That anyone can become President
. Even Michelle Obama said that very thing to a gathering of angry women a couple of weeks ago.
So why all this fear? Money and power are my guess. And the fear of the unknown which Trump reflects. He is not controlled or easy to read by the "smart" people of politics. But looking back I think his presence has been really good for the body politic. He has smoked out the real reasons political parties don't like "rogues". They can't predict their actions or control them. So they attack. Having experienced those kinds of attacks at the local level, I can attest to the ferocity of a critics to a outsider.
Americans, especially those on the left, who rabidly hate the SCOTUS decision of "Citizen's United", are showing the true hypocrisy of liberals. They rail against "big money interests" in politics yet Trump is self funding and says he is not influenced by outside money. Seems the liberals should embrace this, right? Nope, not a word of agreement or praise. Just attacks on him. The Founders of America wanted what they called "citizen representatives" running the place. No kings, no lifetime politicians, no political class. They wanted a "classless" set of in charge of government. Then after serving a time, these people would go home and live under the laws they passed.
Well, Trump is a developer and if you want to develop anything in America you are faced with spending huge sums of your money, countless time to get your projects and the slings and arrows of neighbors trying to stop you. You have a gazillion regulations to follow and many bureaucrats who are jealous of your private sector success. You have to please so many people to get you project you learn people really well. Most politicians want your money/donations and then produce nothing in return anyway. But you have to donate. So Trump donated or as I call it, was extorted for future considerations.
And Trump is a fellow that does not take any crapola. You attack him he hits back twice as hard. Business is really a place for the tough people. Especially at his level. You try and mealy-mouth him he will smack you back hard and make you whimper. That is seen as harsh by the meek of course, but it is SOP in development. Just look at the local "Dorsey Marketplace" in our town. It takes a man with a spine to get through this world at the top of the game.
Americans don't seem to understand the form of government other than the three branches are "equal" in power. But actually that is a and has become a farce. The power is in the Executive. It is not just the President. He is in charge of all the employees! He is the enforcer of the laws. The other two branches are wimps really. The Executive is in charge of the IRS and the EEOC and the FBI etal. That is why a strong leader is needed to keep the vast bureaucracy in check. I personally want a President that will kick butt when the government is out of control. I don't want a person to become a part of the problem.
The Trump campaign scares all the status quo people because just maybe their jobs are now at risk. They may not get stupid laws passed. Maybe the little guy will get a break. All these things scare the "establishment" political class. Trump to me meets the requirements of a "citizen" representative. I may or may not support him but I respect his attempt to run this broke down country. He may just fix the place.