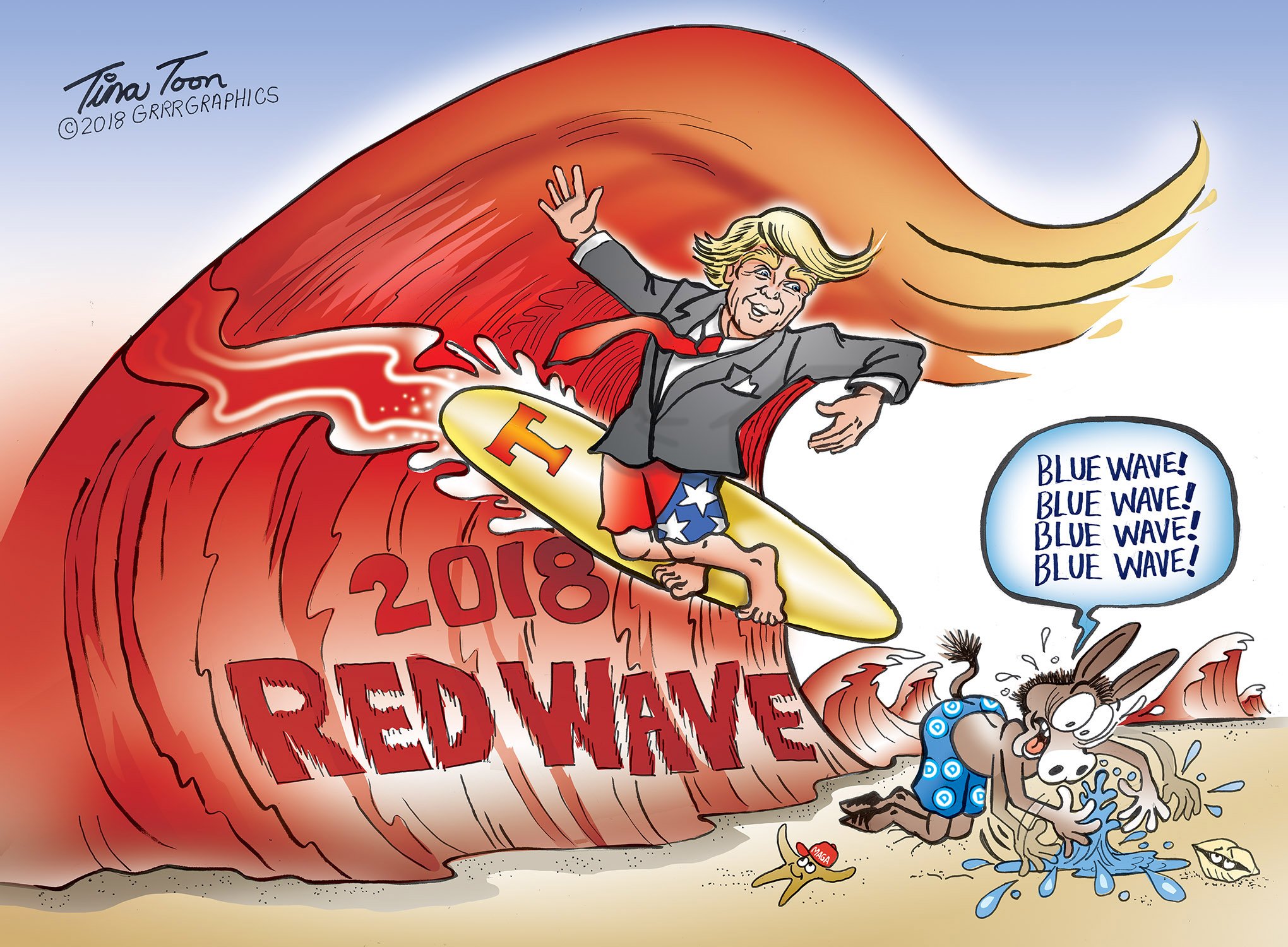 Credit: See cartoon
What an exciting year to be an American and part of the political process.

Our country is a example of how we can proceed as a country without bloodshed or a civil war.

And no dictators either.

We run the place and once in a while we must tell our bureaucracy that we do.

They work for us, right?

But over the years as we work our jobs and raise our kids, the government forgets who their boss is.

But November 2016 changed that.

Donald Trump won and the status quo changed.
And the opposition to Trump went berserk.

The very first day saw a bunch of wild women marching against him in Washington DC.

They seemed a bit off their rockers to me as I listened to them speak.

Madonna said she wanted to see the White blow up and others were as nutty as she.

Later we saw a decapitated head of Trump shown everywhere and late-night hosts on TV told denigrating "jokes" about Trump and his wife and family.

And so, it goes.
This year the democrats said they would pony up women at all levels of politics to challenge sitting Republicans and open seats across the country.

And they have.

I think it is great to see so many new people jump into the fray.

I think they are concerned about the direction of the country and those that are in power.

That is what is great about America.

And then the democrat leadership and their formal cheerleaders, the "media" told us there would be a "blue wave" coming.

Meaning the democrats would wipeout the republicans and take over the Congress and other seats down ticket.
That was their meme.

They beat that horse everyday and did their best to inculcate it into everyone's brain.

But what is happening two weeks from election?

There seems to be a turnaround and now I predict a "red wave" will take place.

Meaning the Republicans will hold the Congress and the Governorships across the country.

I watch the polls and I am seeing a huge trend to Republicans at every level.

And I think we all know why.
The democrats are simply unhinged and show it everyday on TV and in the news.

Riots, Antifa (the brown shirts of their party) burning down Berkeley building to deny a conservative the right to even speak.

The Kavanaugh hearings where they paid people to scream in the hearings and get escorted out.

While Chairman Grassley made sure he treated all with respect to show who the adults were in the room.

The Republicans treated Ms. Ford with all due respect.

Then we saw the political fiasco of California Senator Feinstein and her "October surprise" foisted on the county in September.

And then how her party members treated a good man, Brett Kavanaugh.

All lies and bogus accusations unremembered by the ones accusing.

Kavanaugh's personal defense was so real and compelling that he swayed millions of Americans away from the democrats and into the arms of the grownups, the Republicans.

I say thanks.

And that was the beginning of the turnaround in my view.

People saw for themselves how low the democrats would stoop to get their way.

Like little kids at the grocery counter screaming for that candy.

Then we saw their progeny scratching at the Supreme Courts doors and screaming at the moon.

Their paid protestors on the steps.

Americans got to see these people and many millions have said to themselves and others, there is no way we can give these people power.

They will run America into the ground.

But of course, they still have a chance and it is up to Americans of good will to deny these democrats power.

We see these people are anti police, pro illegal immigrant, socialist in medical issues and higher taxes.

We don't need to return to that do we?

So please follow my lead and vote for Republicans this election.

America is a great place for all but we must remember we are a nation of laws.

The last vision for us should not be thousands of illegals pushing their way into the country.

But if the democrats get the reins of power that is what we will get.

And you all get to pay for them.